Monday, November 24, 2014
Coventry-based commercial property company The Wigley Group have made a big difference to users of the Koco Community Resource Centre in Spon End. During two days in October, members of Wigley's Facilities Team volunteered in Koco's garden, breathing new life into a forgotten corner, giving it a much-needed facelift by cutting down overgrown shrubs and clearing rubbish and weeds.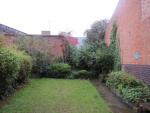 The action was brought about by Coventry 4 Good, an initiative run by Voluntary Action Coventry, designed to make it easier to help local good causes through the giving of time, skills and resources. After being approached by Coventry 4 Good, The Wigley Group kindly agreed to put together a team to help, and the Koco gardening project was a perfect match for their skills, experience and expertise.
Mary Hart from Koco commented: "With Wigley's help we are getting the area cleared for winter with a view to put block paving down, perhaps creating a sundial, and making it suitable for some of our outdoor activities. Wigley have given us breathing space to be able to continue what we want to do; we would not have been able to afford to pay for this work at the moment. Hopefully we'll have a long-lasting relationship with Wigley, and the directors of Koco would like to thank Wigley, and Coventry 4 Good, for their help in making the garden a great place to be."
And Alan Greenway, Wigley's Facilities Manager, added: "It's great to be giving our time for such a good cause, especially in Coventry where we're based. And we also like wearing the pink Coventry 4 Good T-shirts!"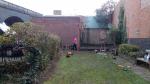 Lucy Bergonzi from Coventry 4 Good said: "we are so grateful to the team from Wigley for what they have done: they have made a huge difference, and it was the fact that they organised a skip and all the necessary tools, as part of their contribution, that made this project so special. The team was so professional and it was a pleasure to work with them."
There are currently around 30 groups based in the Koco Community Resource Centre, including registered charities, social enterprises and small businesses.
For more information on Coventry 4 Good, contact Voluntary Action Coventry on 024 7622 0381, or info@coventry4good.org