Individual Donations
Make a one off donation or start a regular donation today and you can help good causes across Coventry make a real difference to peoples' lives.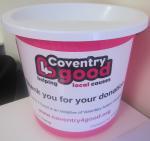 DONATE NOW text COVE46 £1, £3, £5 or £10 to 70070
To complete your one off donation or start a regular contribution you can use the Coventry 4 Good Donate Now button located in the top right corner of this website.
We'll use your money to help good causes around Coventry deliver much needed services to the community.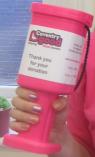 Your donation will go straight to the projects and people that need it.
 Ask your employer to set up a payroll giving scheme which is a cost effective way  for  individuals who are paid through  PAYE to give to their favourite local cause.  There are  lots of ways you and your staff can get involved in fundraising for  Coventry 4 Good. We  can help to identify a cause that fits with your business ethos.
 We can claim gift aid money for all donations made by UK tax payers increasing  your  donation at no extra cost to you.  Basic rate tax is 20 per cent, so this means  that if you give £10 using Gift Aid, it's worth £12.50 to Coventry 4 Good.
Fundraising Standards Board
Voluntary Action Coventry is a member of the Fundraising Standards Board. 
Please find attached a copy of our Fundraising Promise here.  
Please find attached a copy of our Complaints Process here.