Friday, February 15, 2019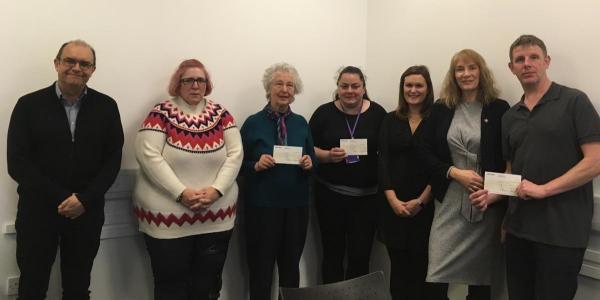 Spring has brought a bit of sunshine this year for a number of small community groups who received funding from Coventry 4 Good to help them continue the work they do in the City.  Awards were presented on at 8th February 2019 at Voluntary Action Coventry; 27-29 Trinity Street, Coventry to five Coventry based good causes.
The Coventry 4 Good initiative ensures that all the money raised in Coventry stays in Coventry and goes towards helping small volunteer led groups continue their work.  This year the five groups receiving funds include: The Friends of Spencer Park are a group of residents who are seeking to improve the provisions in Spencer Park and Recreation Ground to help improve community cohesion by providing a meeting hub. Ayriss Recovery Coventry C.I.C provide support and outreach, to people in Coventry with direct experience of substance misuse and dependency. Stoke Residents, Tenants and Community Association have regular meetings to discuss problems in their area. Fulcrum Recovery Project C.I.C provide safe accommodation where residents can stay from between 6 to 24 months depending on their situation. They have their own building which can currently accommodate 5 people which they hope to expand; All-stars' theatre company run a drama group in Tile Hill.  It's a weekly group for children aged 8-12 mostly from deprived backgrounds and children with learning difficulties.
Sue Ogle, Director of Operations and Development at Voluntary Action Coventry and promoter of the Coventry 4 Good fund said 'We are delighted to be able to offer a small amount of funding to help people in Coventry who want to volunteer their time to make a difference to their community and to the lives of others'.
ENDS
For further information on Coventry 4 Good:
Contact; Sue Ogle, Voluntary Action Coventry
Telephone: 024 7622 0381    Email: s.ogle@vacoventry.org.uk
Notes to the editor
Voluntary Action Coventry www.vacoventry.org.uk helps to improve the quality of life of people in Coventry by supporting community and voluntary action.
Coventry 4 Good www.coventry4good.org was launched by Voluntary Action Coventry in July 2014: it aims to increase the help given to Coventry's good causes, through volunteering, sharing of resources, and fundraising.