Friday, November 13, 2015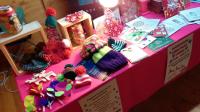 Coventry 4 Good are once again hosting stalls in Broadgate in the lead up to Christmas. On Monday 14th and Tuesday 22nd December the Coventry 4 Good team and volunteers from local organisations and businesses will be wrapping Christmas presents to raise money for local good causes.
How can you help?
We are appealing to as many people as possible to get involved in a variety of ways such as:
Donating Christmas wrapping paper. Many shops are offering '3 for 2' on Christmas wrap so why not donate your 3rd roll to Coventry 4 Good.
Volunteer on our wrapping stall. Stalls are open from 10.00am - 6.00pm each day so even volunteering for 1 hour or 2 hour slots really would make a huge difference.
Make a donation to Coventry 4 Good in exchange for handmade cards and crafts made by volunteers at our Craft Fridays.
The wrapping service that we will provide at the Christmas stalls is a free service. All we ask is a donation to Coventry 4 Good which in turn will be distributed to local good causes.